Today marks the day that Woodridge finally gets seriously caffeinated – and the press is buzzing!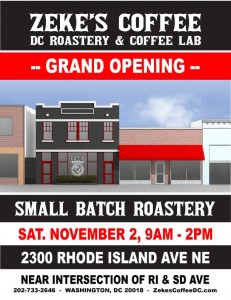 Zeke's Coffee of DC is celebrating their Grand Opening today, and several local news organizations, including the Washington Business Journal, the CityPaper and the Washington Post have already published articles about the Baltimore-based coffee roastery, with emphasis on their business model and plans for their new DC location.
John Kepner, the owner of the DC location of Zeke's, lives in the area. According to Kepner, Zeke's (named after his uncle and the founder of Zeke's Coffee) will be serving cups of coffee for the reasonable prices of $1.50 for a 12 oz. cup and $2.50 for a 16 oz cup. But don't go expecting espresso or fancy foamy coffee drinks – this is strictly brewed or pour-over purity. They will even host coffee tasting "labs" in the future, sampling many of the varieties they roast from mostly organically-grown, fair trade beans. The shop will feature wi-fi and some seating, and Kepner hopes to expand to include outdoor seating soon.
But this is only part of what will be happening at 2300 Rhode Island Avenue. You'll also be able to purchase bags of freshly roasted beans to take home. It's the small batch roasting that put Zeke's on the map, and they will use this new location to supply their DC-area wholesale clients as well as their legions of loyal farmers market customers.
Today's event runs from 9 a.m. to 2 p.m. Starting tomorrow, the shop hours for November will be Wednesday-Friday from 8 a.m. to 6 p.m. and weekends from 8 a.m. to 3 p.m.  They've even promised some pastries on the weekends. So get ready, folks – I suspect that with all of this good coffee flowing on RIA, we're all about to get a whole lot more productive in our daily routines.