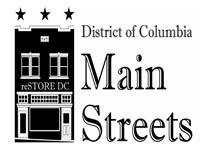 The holidays have been a flurry of activity here! Since Councilmember McDuffie and Mayor Gray's December 18 announcement of the selection of FoRIA to manage the new Rhode Island Avenue Main Street, we've been scrambling to get our transition in place. We know you probably have tons of questions – and we want to make sure we get all the answers for you.
Back in September, we posted some FAQs about the RIA Main Street. We'll be spending the next few weeks attending required trainings for Main Street policies, procedures, and expectations. We'll also be mapping out our programs for the next year, all within the framework of the Main Street Four Point Approach®. Then, we'll roll it all out to you, in a variety of formats.
Now it is YOUR turn. What are your questions about the new RIA Main Street? Leave your questions in the comment section below, or drop us an email. Either way, we'll get the answers to you!